Frequently Asked Questions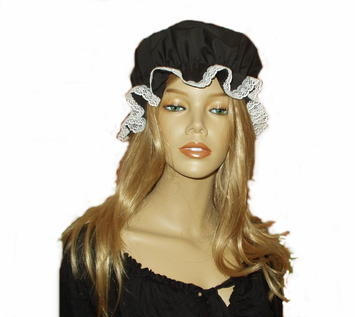 What do you sell at Costume Cabin?
We specialise in Victorian themed costumes which are used in

school trips which are part of the National Curriculum in today's
Primary School's. All these items are handmade by us in our
UK workshop so you can be assured of a quality product. We also
have in stock a range of accessories including lace gloves and jabots.
We are located in Yorkshire, England.
No, we are a mail order only store which means low overheads
for us and low prices for you!
This also means that we are open on-line 24 hours a day.
What currency is listed on your site?
As we are a UK company our currency is listed in British Pounds
Sterling (£). If you are an international buyer you can use
www.xe.com
to get a current exchange rate.
Yes, we use Stripe or Paypal to process your credit/debit card payments.
They automatically encrypt your confidential information in transit
from your computer to ours using the Secure Sockets Layer (SSL) protocol.
For further peace of mind, the Costume Cabin website is fully SSL encrypted.
Telephone orders are also accepted but we no longer accept card details over
the phone. However, once an order is taken on the telephone, we will send a
secure on line invoice to your email address for you to pay in a much more secure way.
I like one of your items but would like it slightly
different - Is this possible?
Yes, please

contact us

with your requirements
and we will get back to you.
Most colour/trim options are available and we are in the process of listing more.
When can I expect my order?
We have specified the despatch time on each product but please note that this
is the Despatch time and not the Delivery timescale. All our items are sent
by Royal Mail 1st Class or 1st Class Recorded Post but if you would like to
ensure your item arrives quicker than stated please call/

contact us

and if possible
will do our best to despatch on a Next Day Royal Mail Special Delivery.
There is an additional sum of £7.99 for the Special Delivery service.
We follow the Distance Selling Regulations (UK) 2000 which means
that
any pre-packed goods can be returned within 7 days for a full refund
(excluding delivery). The cost of returning a product will be met by the
Customer. Custom made or made to measure items can only be returned
prove faulty please

contact us
and we will advise you of the necessary
steps
to take. We always
endeavour to put things right as quickly as possible.
How do I contact Costume Cabin?
You can

contact us

via email or alternatively you can call us
by telephone on
07901 741 922 Monday-Friday 9am-5pm
(This is our UK mobile line number for your your convenience)
We recognise the importance of protecting the privacy of your personal
details as a user of this web site. We do not pass any details you submit to
any third party. We do not contact you unsolicited, unless the matter involves
any outstanding order. Our privacy policy is under frequent review and any
changes will be posted (in accordance with the Data Protection Act 1998).